Deepavali Wishes in English
Categories: OTHERS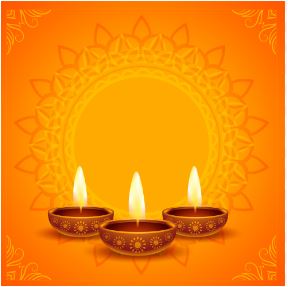 Delightful Deepavali Wishes to Spread the Festive Joy
Millions of people celebrate Deepavali, often known as Diwali, a noteworthy and colourful celebration. It's a time to celebrate, contemplate, and deepen relationships with those you love. The exchange of sincere wishes that represent love, prosperity, and friendliness is one of the most important parts of Deepavali. As the festival approaches, here are some heartwarming Deepavali wishes in English that will help you convey your warm regards and best wishes to friends and family.
1. "May the Glow of Diyas Illuminate Your Path to Success"
On this Deepavali, may the bright light of the diyas shower you with wealth and success in all that you do. May you be blessed with the bravery to face obstacles head-on and the discernment to make the correct choices. Happy and prosperous Deepavali to you and your family!
2. "Wishing You a Sparkling Festival of Lights and Love"
I hope the festival of lights brings joy and love into every aspect of your life. May the celebrations light a spark of optimism and hope that carries across the entire year. I'm wishing you a dazzling Deepavali that is full of happiness and family time!
3. " May Happiness Crackers Illuminate Your Life"
May the joy of Deepavali flood your heart with enormous happiness as you light firecrackers and laugh with loved ones. I hope that this event heralds the start of a brand-new chapter full of happiness, love, and laughter. Joyous Deepawali!
4. "May Your Life Be as Colorful and Joyful as Rangoli"
May your life be full of an assortment of happy moments and lovely memories, just like the rangoli's vivid colours. I hope that this Deepavali will help you achieve your goals and desires and that you will be at peace and pleased in everything you undertake. I hope you have a vibrant and happy Deepavali!
5. "May Goddess Lakshmi Bless You With Prosperity and Wealth"
May Goddess Lakshmi bestow upon you prosperity, fortune, and abundance on this auspicious occasion. May her heavenly graces fill your home and your spirit with humility and thankfulness. I'm wishing you a prosperous and successful Deepavali!
6. " I'm wishing you an amazing Diwali that is full of excitement"
I hope that the joy and celebration of Deepavali fill your life with lots of enthusiasm and happiness. May the celebration go for as long as a cracker, full of energy and happiness at every turn. I'm wishing you an amazing Diwali that is full of joy and excitement!
7. "May the Sweets of Diwali Sweeten Your Life with Joy"
May the nectar of joy and happiness permeate your life as you savour the delectable sweets and treats this Deepavali. I hope the celebrations give you a taste of happiness and success in everything you do. I hope you have a wonderful Deepavali that is full of unforgettable moments!
8. "May the Light within You Shine Brighter This Diwali"
May the light within you shine brighter than ever when you use diyas and candles to brighten up your surrounds. I hope you have the fortitude to be a positive and compassionate person everywhere you go. I'm wishing you a peaceful and light-filled Deepavali.
9. "May the Divine Blessings of Deepavali Fill Your Home"
May the heavenly blessings of Deepavali enter your home with love, harmony, and prosperity on this auspicious occasion. May you deepen the ties that bind you and your loved ones together and make treasured memories. I'm wishing you a happy and blessed Deepavali!
10. "Wishing You and Your Family a Safe and Happy Diwali"
May the festival's atmosphere of safety, joy, and peace envelop you and your family. I hope that this Deepavali will strengthen your bonds with your loved ones and foster a cosy, safe environment. I hope Diwali is safe and enjoyable for you and your family!
Deepavali is a time to celebrate the triumph of light over darkness, build bonds between people, and appreciate the beauty of traditions. It's an event that cuts through barriers and unites people in a spirit of happiness and community. May these Deepavali wishes in English serve as a reminder of the significance of this beautiful festival and help you convey your heartfelt emotions to those who hold a special place in your life. Happy Deepavali!