Navratri Garba Songs Get Ready to Groove
Categories: OTHERS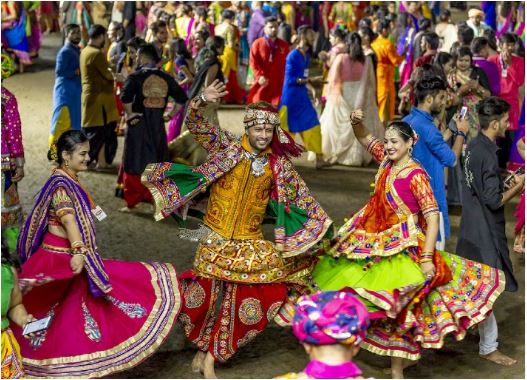 A joyful nine-night celebration honouring the Hindu goddess Durga is known as Navratri, and it is distinguished by an alluring fusion of song, dance, and devotion. The throbbing beats of Garba songs create an exhilarating atmosphere that enlivens the spirit of celebration among the myriad celebrations that embellish this auspicious occasion. Navratri Garba Songs hold a special place in the hearts of millions, fostering cultural unity and fostering an atmosphere of joyous togetherness. Explore the significance and rich cultural legacy these vibrant melodies represent as we delve into their core.
The Historical and Cultural Significance of Navratri
Navratri, which means "nine nights" in Sanskrit, is a holiday that is firmly ingrained in Hindu tradition. The event, which has roots in ancient mythology, celebrates the victory of good over evil and pays tribute to many manifestations of the divine feminine force, especially Goddess Durga. This nine-day celebration, which attracts people from all walks of life into the colourful tapestry of Indian culture, is observed with tremendous fervour and excitement throughout India and even abroad.
Garba - The Energetic Dance of Gujarat
The ancient folk dance known as Garba, which has its roots in Gujarat in western India, is a crucial component of Navratri celebrations. Garba perfectly captures the spirit of celebration and dedication with its cirlcular dancing, colourful costumes, and rhythmic clapping. Regardless of age, gender, or social standing, this group dance activity unites individuals and promotes a feeling of community camaraderie.
The Melodious Rhythms of Navratri Garba Songs
The throbbing rhythm of the Garba songs, which act as the heartbeat of this exuberant celebration, is at the core of the Garba dance. These tunes, which frequently feature traditional folk beats, arouse feelings of delight and awe while also bringing a festive atmosphere. The songs frequently tell stories of love, devotion, and the victory of good over evil, which resonate with Navratri's spiritual significance.
Evolution of Navratri Garba Songs: Blending Tradition with Modern Tunes
Traditional Garba melodies still have a timeless quality, but as this art form has developed, modern musical components have been blended in. Famous musicians and artists have cleverly combined modern beats and melodies with classic ones to produce a fusion of old and new sounds. The attraction of Garba songs has expanded thanks to this mix, drawing a large audience and further enhancing the festival's rich cultural tapestry.
Popular Navratri Garba Songs: An Exploration of Time
Numerous Garba songs have become immensely popular throughout time and are now played during Navratri celebrations all across the world. From timelessly popular songs like "Odhni Odhu" and "Tara Vina Shyam" to more recent blockbusters like "Dholida" and "Chogada," these songs have crossed generations, uniting people in the spirit of joy and celebration.
Embracing the Festive Spirit: Preparing for the Garba Nights
Communities in India and other countries start preparing for the eagerly anticipated Garba nights as Navratri draws near. All age groups experience a sense of anticipation and excitement as they practise difficult dance movements and dress in vibrant traditional attire. Moreover, the search for the perfect playlist of Navratri Garba songs becomes an essential part of the preparations, setting the stage for an unforgettable celebration.
Preserving the Cultural Heritage: Keeping the Garba Tradition Alive
Preserving indigenous art forms like Garba is essential to protecting India's rich cultural history in an era marked by growing globalisation and cultural fusion. In addition to promoting the Garba tradition and educating the younger generations about its cultural value, cultural organisations, educational institutions, and committed people are actively involved in organising workshops, cultural events, and festivals.
Conclusion:
Navratri Garba songs transcend the boundaries of music and dance, encapsulating the spirit of joy, devotion, and cultural unity. They act as a link between individuals from all origins, generating a feeling of unity and friendship. Through the festive nights, the beats of the Garba songs resound with the essence of India's rich cultural legacy, delivering the message of happiness and harmony. So, get ready to groove to the enchanting rhythms of Navratri Garba songs, and let the spirit of celebration engulf your soul.