Celebrating Navratri with Kids
Categories: OTHERS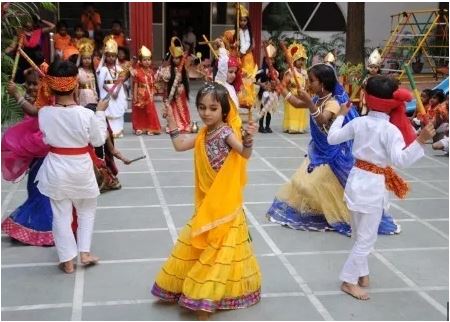 Celebrating Navratri with Kids in Fun and Creative Ideas for the Whole Family
Navratri, a nine-night celebration honouring the Hindu goddess Durga, is more than just a time for fasting and prayer. It's a joyful occasion to make enduring memories with your children because it's loaded with festivals, colour, and excitement. Getting kids involved in the Navratri spirit may be a rewarding experience that promotes family unity and a sense of cultural awareness. Here are some wonderful suggestions to inject fun and excitement into this unique holiday for the whole family, using a blend of tradition and contemporary inventiveness.
Here are some fun and creative ideas for celebrating Navratri with kids:
Crafting Dandiya Sticks and Garba Outfits
Encourage your kids' artistic abilities by letting them make their own Dandiya sticks and decorate them with glitter and bright colours. Moreover, help them create their Garba attire by using vibrant fabrics, mirror work, and conventional motifs to unleash their creativity. They can participate in the preparation process and learn the significance of wearing traditional clothing through this activity.
There are many fun and easy Navratri crafts that kids can make. Here are a few ideas for celebrating Navratri with kids:
a. Dandiya sticks: Sticks painted in various colours called "dandiyas" are used in the traditional Navratri dance. Dandiya sticks can be decorated by children using paint, glitter, and other craft tools.
b. Goddess Durga masks: Make masks of Goddess Durga for kids to wear during the festival. You can use paper, cardboard, or even felt to make the masks.
c. Navratri lanterns: Create papier-mâché lanterns with Navratri motifs like the lotus flower or trident on them.
d. Navratri sand art: Create sand art designs that depict the nine forms of Goddess Durga or other Navratri symbols.
Storytelling Sessions on Navratri Legends
Narrate the fascinating Navratri-related tales and legends to make the most of this joyful occasion. Discuss the significance of each Navratri day, the myths surrounding the goddess Durga's victory over evil, and the meaning behind the festival's customs and rituals. Interactive storytelling events can spark young minds' curiosity and inculcate cultural values.
Cooking Traditional Delicacies Together
Prepare classic meals like sabudana khichdi, kuttu ke pakode, and singhare ki poori with the help of your little chefs to introduce them to the flavours of Navratri. They may enjoy the festival's essence through the fragrances and flavours of these delectable dishes by helping with simple kitchen tasks like stirring ingredients and rolling out dough.
Creating a Home Shrine
Create a lively and colourful home shrine for the goddess Durga by involving the whole family in the process. Encourage your children to assist in decorating the shrine with flowers, diyas, and rangoli designs while explaining to them the importance of calling upon blessings and good fortune during the auspicious Navratri season. The family benefits from this exercise by feeling more spiritual and appreciative.
Organizing a Family Garba Night
Plan a fun-filled Garba night at your house with traditional music, dance, and delicious holiday fare. Regardless of age or ability level, encourage everyone to join by dressing in traditional attire. Togetherness is fostered, physical activity is encouraged, and the festival's spirit is brought to life through joyful celebrations during this family-friendly Garba night.
Crafting Rangoli Designs with Eco-friendly Materials
Encourage your kids to express their creativity by helping them create colourful Rangoli patterns with natural dyes, coloured rice, and flower petals. Inform them of the importance of the rangoli, which represents the influx of good fortune and optimism into the home during the Navratri festival. This exercise encourages artistic expression and deepens their comprehension of cultural customs.
Engaging in Community Service Activities
By having your kids participate in volunteer work during Navratri, you can teach them compassion and understanding. Plan visits to shelters or community centres and encourage people to bring essentials or interact with the poor. Children can develop a feeling of social responsibility and empathy by being taught the value of selfless service during this festival.
Learning and Performing Traditional Dances
Enrol your children in fundamental dance classes to teach them the steps of the Garba and Dandiya. Plan a little performance for the family and friends after some at-home practise. Children are exposed to the rich cultural legacy of India through this pastime, which also encourages physical exercise and builds confidence and coordination abilities in kids.
Hosting a Navratri-themed Art Exhibition
Encourage your kids to use art to illustrate how they understand Navratri. Set up a little art exhibition at your house so your family members can show off the artwork they created that was inspired by the festival. This platform lets kids comprehend the deeper meanings and symbolism of Navratri in addition to showcasing their creativity.
Sharing Navratri Memories and Traditions
Encourage grandparents and senior family members to talk about their favourite Navratri memories and experiences. Let the kids comprehend the development of the event and the various ways it has been observed over the years, handing down the legacy of family traditions and cultural heritage.
Attend Navratri events
Numerous Navratri celebrations take place in localities all around the world. Garba dancing, storytelling, and religious ceremonies are a few examples of these occasions. Children can learn about the holiday and its customs by attending Navratri festivities. Kids will also love taking part in the other activities and seeing the garba dancing.
Here are some additional tips for celebrating Navratri with kids:
a. Keep it simple: Avoid trying to do too much because you run the danger of exhausting yourself and your children. Concentrate on a few activities you believe your children will appreciate.
b. Make it fun: Navratri should be a time for fun and celebration. Choose activities that are engaging and enjoyable for kids.
c. Be educational: Teach your children about Hindu culture and rituals during Navratri. Inform them of the festival's significance and the nine manifestations of the goddess Durga.
d. Be inclusive: Navratri is a festival for everyone. Invite your friends and neighbors to join in the celebrations.
The festival of Navratri is a unique occasion to gather with loved ones. You may plan a Navratri celebration that is entertaining and informative for children of all ages by using the advice in this article.
Navratri is more than simply rituals and prayers; it's also about gathering as a family, appreciating culture, and making cherished memories. You may give your kids a profound respect for their cultural background and the ideals that the festival upholds by incorporating creativity and joy into the celebrations. Let this Navratri serve as a time for the entire family to come together in celebration of joy, customs, and the sense of community.