Common Heart Diseases and How to Prevent Them
Categories: Health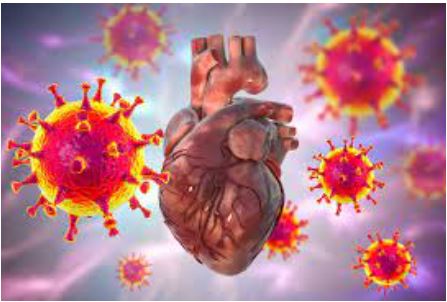 Heart diseases: What Are They?
A variety of illnesses that affect the heart and its blood arteries are referred to as heart disease. Coronary artery disease (CAD) is the most prevalent and well-known type of heart disease, while there are many conditions that can affect your heart. A heart attack may result from waxy buildup in your heart's arteries brought on by CAD. CAD and other heart disorders can be prevented or treated with healthy practises, medications, and treatments. Heart problems are a variety of conditions that can harm your heart. The most prevalent type of heart disease, coronary artery disease (CAD), comes to mind when individuals think about the condition. You might experience issues with your heart's electrical system, heart valves, or muscle, for example.
In the United States, heart disease is the leading cause of death. One in five deaths in 2020 were due to heart disease. That comes to about 700,000 people. About 380,000 of the deaths were due to coronary artery disease, the most common form of heart disease. Regardless of gender, heart disease affects people from most ethnic origins. The leading cause of death in the US is heart disease.
Your heart struggles to pump enough blood to your body when it's not functioning properly. Your body's organs, tissues, and cells receive oxygen and nutrition through your blood. It is more difficult for them to function if they can't get what they need. Your heart provides the energy that powers the various systems in your body. Your body's systems operate differently if there is a problem getting that fuel to them. If you have any symptoms, such as exhaustion, chest pain, or shortness of breath, seek medical attention.
Cardiac disease is a broad phrase that covers a variety of cardiac issues. Cardiovascular disease, which refers to both heart and blood vessel disease, is another name for it. Although heart disease is the primary cause of death in the US, there are techniques to treat and prevent many different types of heart disease.
The most prevalent cardiac conditions include:
CAD, or coronary artery disease: Plaque buildup results in CAD when the blood vessels that supply the heart with nutrition and oxygen tighten or obstruct.
CAD prevention:
Eat a balanced diet that is high in fruits, vegetables, whole grains, lean proteins, and low-fat dairy products to maintain a healthy diet. Limit salt, cholesterol, trans fats, and saturated fats.

Regularly exercise:

Aim for 75 minutes of strenuous activity or 150 minutes of moderate-intensity aerobic activity each week.

Smoking is a substantial risk factor for coronary artery disease. If you smoke, get help to stop.

Reduce stress:

Find appropriate coping mechanisms for stress, such as physical activity, relaxation techniques, or hobbies.

Managing cholesterol and blood pressure:

Maintain a healthy lifestyle, take your medications as directed, and get frequent checkups.
Failing the heart: Cardiac failure happens when the heart is unable to pump blood efficiently.
So as to avoid cardiac failure:
Control the fundamental causes:

Effectively control illnesses like diabetes, coronary artery disease, and high blood pressure.

Maintain a heart-healthy way of life:

Maintain a healthy weight, engage in regular exercise, adopt a nutritious diet, and limit your alcohol use.

Take the medicine as directed:

Regarding drugs for diseases like hypertension or heart disease, go by the advice of your doctor.

Avoid using illegal drugs and smoking:

Drug use and smoking both damage the heart and increase the risk of heart failure.
Arrhythmias: Unusual heartbeats are known as arrhythmias.
Arrhythmias should be avoided:
Consuming too much caffeine or alcohol might cause irregular heartbeats in people who are prone to it.

Control your tension:

Arrhythmias can be exacerbated by stress. Use relaxation methods to reduce your stress.

Keep your weight in check:

Obesity raises the possibility of having arrhythmias.

Consume a balanced diet that is sufficient in vitamins, minerals, and electrolytes to maintain a heart-healthy diet.
Valvular Heart Disease: This condition has an impact on the heart valves, which affects how well they function.
There are several ways to prevent valvular heart disease:
Maintain proper dental hygiene: Infections that affect the heart valves might result from poor oral health. Rheumatic fever and infective endocarditis should be regularly watched for and treated as they can harm heart valves.
Heart disease's early warning signals include:
Chest pain is one of the early indicators of heart disease.

Respiration difficulty.

Your legs swelling.

Fatigue.

Unexpected fainting, dizziness, or continually coming close to passing out.
How is heart disease diagnosed?
A medical professional can determine if a patient has heart disease after:
Physical examination.

Having knowledge of your signs.

Learning about the medical history of your family and yourself.

Conducting diagnostic exams.
The cardiovascular disease risk factors:
If you possess cardiovascular disease risk factors, such as:
High blood pressure is also referred to as hypertension.

High cholesterol, or hyperlipidemia.

Using tobacco, which includes vaping.

Type 2 diabetes.
Treatment options for cardiovascular disease:
Depending on your symptoms and the type of cardiovascular disease you have, you may have access to various treatment choices. There are numerous techniques to treat heart problems, including:
Lifestyle adjustments:

Examples include changing your diet, getting more exercise, and giving up smoking (including vaping).

Medication:

Your doctor may recommend medication to help control cardiovascular disease. Your treatment options will change based on the type of cardiovascular ailment you have.

Procedures or surgeries:

If medication is ineffective, your doctor may perform certain procedures or surgeries to address your cardiovascular condition. A few examples are cardioversion, ablations, open heart surgery, minimally invasive heart surgery, and stents in your heart or leg arteries.

Cardiac rehabilitation:

You might need to follow a regulated workout routine to strengthen your heart.

Active monitoring:

Even in the absence of medications, treatments, or procedures, you can eventually require close attention to observation.
Prevention of heart disease:
The chance of having heart disease can be decreased by making certain lifestyle adjustments. These include:
Maintaining a healthy diet:

A diet rich in fresh produce, whole grains, and fibre is recommended for heart health. Diets like the DASH and Mediterranean may be beneficial for heart health. Restricting your consumption of processed foods, added fat, salt, and sugar may also be beneficial.

Consistent exercise:

This can improve the circulatory and cardiovascular systems, reduce cholesterol, and regulate blood pressure. Aiming for 150 minutes of exercise per week can be a good idea.

Preserving a healthy weight:

According to specialists, a BMI between 20 and 25 is considered healthy. Right here, one can check their BMI.

Refraining from or quitting smoking:

The chance of getting heart and circulation issues is considerably increased by smoking.

Limiting alcohol intake:

The recommended daily alcohol intake for men is two standard drinks, and the recommended daily alcohol intake for women is one standard drink.

Taking care of underlying diseases:

Seek medical care for conditions including high blood pressure, obesity, and diabetes that have an impact on heart health.
You can improve your overall health and lower your risk of heart disease and its complications by following these actions.
Conclusion:
Cardiovascular diseases are conditions that affect the heart and blood vessels. If untreated, cardiac disease can result in heart attacks or strokes. You can make lifestyle changes or take medications to manage cardiovascular disease. An early diagnosis can lead to more effective treatment. Cardiovascular disease affects many people, many of whom lead busy, happy lives.
Always consult a healthcare professional for customised advice on preventing heart problems if you have specific risk factors or a family history of heart disease.