The Gray Eagle Drone An Essential Tool for Modern Warfare world
Categories: TECHNOLOGY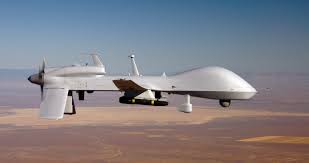 The Gray Eagle Drone:
The Grey Eagle drone is a crucial piece of equipment for contemporary warfare. The Grey Eagle is an unmanned aerial vehicle (UAV) created by General Atomics Aeronautical Systems that performs a number of crucial duties in military operations. It is a technologically sophisticated Predator drone version with enhanced capabilities.
For use in operations in Ukraine, the US Army is thinking of altering its MQ-1C Grey Eagle tactical drones. In order to defend against Russian offensives, Kyiv has long sought for the General Atomics unmanned system armed with Hellfire missiles. The $400 million in recent US military aid to the country, which also included air defence equipment and missiles, did not include the drone.
According to two US sources, Washington is still considering system upgrades that would lessen the risk of losing it on the battlefield. Moscow might purportedly take the drone's critical onboard technologies if it were destroyed. These worries have caused the decision to give Ukraine such a potent armed drone to be postponed.
The next-generation enhanced Grey Eagle Unmanned Aircraft System (GE-ER) is a battle-tested derivative of the Grey Eagle Unmanned Aircraft System (UAS). This drone carries out long-duration UAS surveillance, communications relay, and weapon delivery missions in support of the warfighter.
To satisfy the demanding service requirements for persistent Reconnaissance, Surveillance, and Target Acquisition (RSTA) and attack missions, Grey Eagle provides an effective, dependable, reasonably priced, low-risk, and next-generation tactical UAS system.
This diesel piston engine burns jet fuel, improving the performance of the aircraft at great altitudes. It has an operational range of 200 nautical miles (370 km) and can fly for 36 hours at heights of up to 25,000 feet (7,600 m).
Here are some of the main traits and functions of the Grey Eagle drone:
Intelligence, Surveillance, and Reconnaissance (ISR): The Grey Eagle drone is primarily utilised for surveillance and intelligence gathering operations. It can give military commanders real-time situational awareness thanks to its array of sensors, including electro-optical/infrared (EO/IR) cameras, signals intelligence (SIGINT) devices, and synthetic aperture radar (SAR).
Target Acquisition: The drone's sensors enable precise target identification and tracking on the ground. For locating targets for airstrikes or other military actions, this capacity is essential.
Precision Strikes: Additionally, the Grey Eagle drone has the capacity to transport and launch precision-guided weapons like Hellfire missiles. Due to its great precision and low collateral damage, it can engage and neutralise opposing targets.
Persistent Surveillance: The Grey Eagle drone can stay in the air longer than human aircraft, providing persistent surveillance and keeping a steady presence over a target region. Border security and counterinsurgency operations both benefit greatly from this capability.
Force Protection: By doing tasks that might otherwise put soldiers at risk, the Grey Eagle drone improves force protection. It can carry out reconnaissance in dangerous settings and spot possible dangers, giving troops on the ground useful information.
Communications Relay: By acting as a platform for communications relay, the drone can increase the range and coverage of military communications networks. In remote or harsh situations, this feature allows improved command and control capabilities.
Training and Development: The Grey Eagle drone is also used for training, enabling operators to practise mission planning, execution, and coordination while simulating real-world conditions.
The Grey Eagle: Persistence in Arms
The creative and technologically cutting-edge Grey Eagle Unmanned Aircraft System (UAS) from GA-ASI is a vital component of the U.S. Army's Aviation Modernization Plan. It is a variation of the combat-proven Predator. To satisfy the demanding service requirements for persistent Reconnaissance, Surveillance, and Target Acquisition (RSTA) and attack missions, Grey Eagle provides an effective, dependable, reasonably priced, low-risk, and next-generation tactical UAS system.
The Grey Eagle has a 25-hour endurance, a top speed of 167 KTAS, a ceiling of 29,000 feet, and a payload capacity of 1,075 lb (488 kg) both internally and externally. Four Hellfire missiles, Synthetic Aperture Radar (SAR), Electro-optical/Infrared (EO/IR) with laser designator, communications relay, and other payloads can all be carried aloft by the aircraft.
The Heavy Fuel Engine (HFE) of the Grey Eagle supports the Army's "single fuel in the battlefield" philosophy and offers more horsepower and much better fuel efficiency as compared to the Predator's predecessor, using either jet fuel or diesel.
A highly dependable UAS, Grey Eagle is equipped with a fault-tolerant control system and a triple-redundant avionics system architecture, which are identical to those found in the Predator B, a system that has a proven track record in combat. Grey Eagle is designed to meet and surpass manned aircraft reliability standards with airworthiness as its top priority.
The Army field commanders will have direct operational authority over this long-range, long-stay UAS. Wide-area Intelligence Surveillance and Reconnaissance (ISR), convoy protection, Improvised Explosive Device (IED) detection and defeat, close air support, communications relay, and weapons delivery missions are just a few of its numerous duties.
Grey Eagle has an autonomous takeoff and landing system (ATLS) that enables operator-free takeoff and landing of the aircraft. Tens of thousands of takeoffs and landings using Grey Eagle aircraft have been successful.
At the Dugway Proving Grounds in Utah, a General Atomics Unmanned Aircraft System (UAS) made its airborne debut during a demonstration. The air-launched effect, or ALE, that the company that develops the Grey Eagle unmanned aerial system for the American Army calls "Eaglet".
Grey Eagle can carry Eaglet for tens of thousands of km before deploying it, according to General Atomics.
Eaglet was launched in December from a US Army-owned Grey Eagle Extended Range UAS as part of a project supported jointly by the service's Combat Capabilities Development Army Research Laboratory and Aviation & Missile Centre, according to a statement issued by General Atomics on January 31.
The next-generation enhanced Grey Eagle Unmanned Aircraft System (GE-ER) is a battle-tested derivative of the Grey Eagle Unmanned Aircraft System (UAS).
This drone carries out long-duration UAS surveillance, communications relay, and weapon delivery missions in support of the warfighter. Eaglet's launch from such a system will increase this capability.
The test launch takes place at a time when the US military has consistently concentrated on getting ready for battle in contested airspaces. Due to the air defence capabilities developed by its foes, the US combat drones' days of unrestricted use are ended. These drones gathered vital intelligence and poured down damage on adversaries.
The US military first suggested the idea of ALE for this reason a few years ago. The US is working to create a family of smaller drones that can be launched from larger manned or unmanned aircraft and can cooperate or swarm. This effort is part of a larger strategy. The Eaglet from General Atomics might be quite useful in this situation.
However, this is not the first time the Grey Eagle drone, which is combat-tested, has launched ALE. For the Army's Edge event at Dugway in 2021, L3Harris developed the drone that launched ALE. The system that took part in the event can fly at speeds of more than 200 knots and has a range of more than 300 kilometres.
Concerning The Eaglet:
Even though information about the brand-new Eaglet is still lacking, earlier reports have provided some specifics on its ALE characteristics. The propeller-driven Eaglet has a maximum airspeed of 115 knots, a span of 10.5 feet, weighs less than 200 pounds, and has pop-out wings that may be expanded.
It can travel for around eight hours and 700 kilometres (435 miles) on a single charge, with a payload of 20 to 30 pounds. At its highest point, its service ceiling is around 15,000 feet.
The Eaglet, as previously said, aims to enable the now-vulnerable legacy drone fleet to continue providing surveillance and striking capabilities while keeping securely out of the reach of hostile anti-access/area denial (A2/AD) weapons. The US Army has had significant success using the Grey Eagle in combat.
This is essential since there are still rising tensions in the Indo-Pacific region and because numerous military analysts believe that a war between the US and China could break out within a few years. The US Pacific Air Force Commander General Kenneth Wilsbach confirmed China's A2/AD capabilities in one of his contacts last year, making them well-known throughout the world.
He stated that using "attritable" unmanned aircraft against China rather than advanced stealth fighters like the F-35 or F-22 would be much more acceptable. It is also important to remember that the military is aiming for sophisticated unmanned aircraft that can be frequently deployed and, ideally, never be shot down.
A Grey Eagle ER carrying four Eaglets is flying an ISR mission close to active hostilities, C. Mark Brinkley, Senior Director Strategic Communications & Marketing for General Atomics, Aeronautical Systems, said last year. The UAS can deploy its Eaglets into hostile airspace, where they can cooperate to broaden the host UAS's sensing range, offer alternatives for electronic or kinetic warfare, or simply thwart an enemy's mission planning.
The US ALE drones, which may be fired by other unmanned systems far from the protective shield of opposing air defence, may end up changing the course of battle. As the US works diligently on a manned-unmanned teaming concept to negotiate contested airspaces, this becomes crucial.
Not only that, but military authorities and analysts in the United States have emphasised that developing a fleet of drones or other less expensive aircraft could be the best course of action in the event of conflict with a heavily fortified foe like China. This is also demonstrated by the Skyborg Programme that it has started.
In the release, General Atomics President David Alexander stated that the ALE is "intended to be a low-cost, survivable UAS with the versatility to be launched from a Grey Eagle, rotary-wing aircraft, or ground vehicles." He continued, "It enables extended reach of sensors and increased lethality while providing survivability for manned aircraft." The Eaglet will next take part in additional drills to help evaluate its capabilities. An initial capability refinement document for ALE was authorised by Army Futures Command, the body in charge of modernising the Army, in the autumn of 2019.
Overall, the Grey Eagle drone is an essential tool for modern warfare due to its adaptability, endurance, and superior sensor and weapon systems. It gives armed forces increased situational awareness, precise strike capabilities, and intelligence, thereby assisting in mission accomplishment while reducing dangers to soldiers.