Green Technology Innovations for a Sustainable Future
Categories: TECHNOLOGY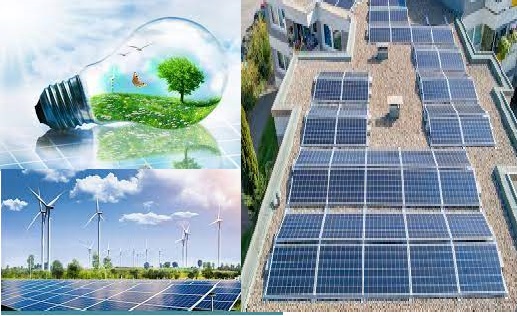 Sustainable Agriculture: Sustainable agriculture practices are used that reduce the use of pesticides, fertilizers and other harmful chemicals while looking after soil health and promoting biodiversity.
This includes organic farming, permaculture and regenerative agriculture etc.
By promoting sustainability and reducing our dependence on non-renewable resources, we are helping to create a more resilient and sustainable future for future generations.
Top examples of green technology:
Green technology includes energy, sustainability, innovation, nanotechnology, green chemistry, green fuel, regenerative design, and many other activities that can improve life on our planet. Energy is considered to be the most pressing issue when it comes to green technology. If we continue to depend on fossil fuels, it means we are headed for undoubted death, so we have to look at other options. As-
i. Natural Gas Boiler:
Green boilers are those that consume the least amount of fuel and at the same time use renewable energy. Natural gas is also primarily a fossil fuel and it emits almost no toxic gases like nitrogen oxides, particulates, carbon monoxide and sulfur etc. It emits more water vapor and less carbon dioxide.
ii. Green Architecture:
Under green architecture, buildings are constructed in such a way as to make use of existing natural light and also ensure adequate insulation so as to reduce energy consumption. Such construction practices will reduce energy use in lighting and eliminate the need for heating, by reducing the amount of outside heat. Along with this the construction material will be sourced from urban waste and landfill.
iii. Artificial Photosynthesis:
Photosynthesis is the process by which trees capture carbon dioxide from the atmosphere and convert sunlight into energy. Under the green industry, engineers and scientists are trying to develop a technology that can use sunlight and carbon dioxide to generate energy and reduce carbon dioxide levels while producing fossil fuels with this technology. Will also get the benefit of.
iv. Carbon Capture, Utilization and Storage:
Carbon capture, utilization and storage (CCUS) is a technology that shows a lot of promise but has yet to be proven on a large scale, especially without government subsidies. Yet this technology removes carbon directly from the atmosphere, it is helpful in rooting out the problem of global warming.
v. Wind Turbine:
Wind turbines and solar panels have broken the lowest cost ceiling that coal power plants have held for a long time. As intermittency is a central concern, more solutions are appearing.
vi. Wastewater treatment:
While there have been some technological advances in this area, the current ones are significant. Major developments include membrane filtration, microbial fuel cells, nanotechnology, the development of biological remediation and natural remediation systems such as wetlands, etc.
vii. Waste to Energy:
Under Waste to Energy Production, Tecum Group develops waste treatment solutions that generate energy in the form of steam, hot water or electricity that each company then uses for internal processes.
viii. Vertical Gardens and Farms:
Installing vertical gardens inside buildings also saves energy and has many benefits for the environment. Vertical gardens do not require regular watering thus reducing unnecessary water usage and because they are installed along a wall, they reduce the intense auditory pollution that comes from outside and that we can generate.
Ways to reduce carbon footprint:
Green technologies to reduce carbon dioxide: Sustainable development and reduction of carbon emissions is the prime goal of any industrial production time.
Green tech refers to the reduction of harmful human impact on the environment and helps to broaden the use of science and technology. The primary objective of green technology is to increase investment in natural infrastructure, promote renewable energy, reduce non-recyclable waste, and also protect the world's ecosystems. As-
1. Photosynthetic Hydrogen:
The development of new techniques capable of orchestrating the assembly of living cells into this multicellular ensemble is a fundamental requirement for applications in tissue engineering and cell therapy 1,2,3,4. Under this, micro-engineering processes such as microfluidics as well as chemically-mediated droplet approaches are currently being developed for the spontaneous organization of living cells or their artificial cell-like counterparts into tissues and prototissue assemblies, respectively.
2. Algae Biofuel
Algae biofuel has been named by many as a replacement for traditional fossil fuels, as it burns cleaner, releasing fewer greenhouse pollutants and greenhouse gases into the atmosphere. Algae biofuel is made from algae growing in the ocean such as phytoplankton and macrophytes which are then converted into oil in a photobioreactor. They are more cost-effective as well as take up less space than conventional biofuel plantations.
3. Carbon trappers:
Further research and development of sustainable products from renewable and organic sources, enabling the potential of our environment and economies to prosper simultaneously. Planting a Wildflower Area on Our Farms To attract and protect biodiversity wildlife species, a minimum of 5% of our fields are given over to wildflower planting.
Current carbon capture systems rely on large amounts of solvents to absorb greenhouse gases from the atmosphere and store large amounts of energy.
4. Waste-to-electricity generator:
Reusing waste and wastewater to generate electricity can help reduce both the global garbage problem and our reliance on other non-renewable sources for electricity supply. One way to do this is to simply burn the waste, allowing the heat to produce steam that will power an electric turbine, and generating electricity. This method is generally more likely to produce high emissions and toxic gases from the waste.