Stunning Makeup Looks to Rock this New Year Party
Categories: Beauty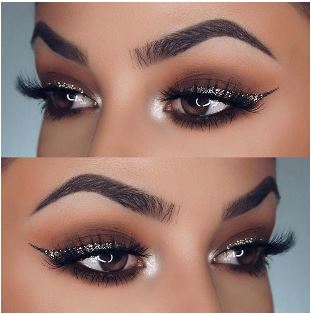 With the New Year's Eve celebration quickly approaching, now is the perfect opportunity to glam up your appearance and make a statement as you ring in the new year. Your entire attire may be elevated with the right makeup look, whether you're attending a big celebration or an intimate get-together. These gorgeous makeup ideas, which range from traditional glamour to modern and daring, will help you shine at this year's New Year's party.
1. The Classic Red Lip and Winged Liner Combo
The classic red lip and winged eyeliner look is a timeless combo that never fails to make a statement. It radiates refinement and confidence. To add a little drama to your eyes, use a sharp winged liner in conjunction with a matte red lipstick that matches your skin tone. To make your lips and eyes shine, apply a flawless base and a light blush, and keep the rest of your makeup simple.
2. Glittery Gold Eyes for a Dazzling Effect
Choose sparkling gold eyes that evoke the spirit of the holidays for a glitzy and joyous appearance. Use a gold shimmer eyeshadow all over your lids, then use a deeper hue in the crease to create depth. Applying volumizing mascara and a subtle lip colour will balance the sheen and draw attention to your eyes. For individuals who wish to give their attire a hint of glitz and shine, this style is ideal.
3. Sultry Smokey Eyes with a Nude Lip
Nothing is more alluring and mysterious than a perfectly applied smokey eye. Blend medium- and dark-toned eyeshadows to achieve a smooth, smoky look that gives your eyes more depth and intensity. To counterbalance the brightness of the eyes and create a cohesive overall appearance, pair it with a subtle lip colour. For a more defined and put together look, make sure your base makeup is perfect and use a highlighter to lend a delicate glow to your cheekbones.
4. Bold and Bright Statement Lips
Using a bright lip colour that goes well with your skin tone will help you create a striking and colourful statement. A striking lip colour, whether it's a rich magenta, vivid coral, or deep plum, can quickly make your entire ensemble pop. To draw all eyes to your lips, apply a thin line of eyeliner and a light neutral eyeshadow. Keep your eye makeup minimal. For individuals who wish to stand out from the crowd and create a big impact, this appearance is ideal.
5. Ethereal and Dewy Makeup for a Fresh Glow
With dewy makeup that accentuates your natural features, embrace a more airy and youthful appearance. Choose a radiant foundation that highlights the brightness of your skin and gives it a natural glow. For a modest yet seductive glance, apply a hint of peach blush to your cheeks and use a gentle, neutral eyeshadow. Apply a glossy lip balm to complete the look for a natural, carefree pout that accentuates your face's natural radiance.
6. Dramatic Cat Eyes for a Bold and Edgy Look
Dramatic cat eyes that radiate confidence and attitude are a great choice for individuals who like a bold and edgy appearance. To create a precise and pointed wing that elongates your eyes and gives your entire look a furious touch, use a highly pigmented eyeliner. To counteract the eye makeup's brightness and keep your eyes the centre of attention, pair it with a muted or sheer lip colour.
7. Monochromatic Makeup for a Chic and Coordinated Look
Choosing a monochromatic makeup style that harmonises the colours of your lips, cheeks, and eyes will help you look put together and stylish. For a smooth and well-coordinated look, apply a skin-tone-complementing shade—such as a mauve, peach, or light pink—to your lips, cheekbones, and eyelids. For people who want a refined, elegant appearance that accentuates their inherent attractiveness, this style is ideal.
Try experimenting with these gorgeous makeup looks as you get ready for the New Year's Eve celebrations to see which one best suits your style and personality. It's important to feel secure and at ease with the appearance you've selected, regardless of whether you like a traditional, timeless appearance or a daring, avant-garde statement. As you welcome the New Year in style and aristocracy, embrace the spirit of celebration and exhibit the beauty that is uniquely yours.