Quick and Easy New Year Party Makeup Ideas for Busy Women
Categories: New Year 2024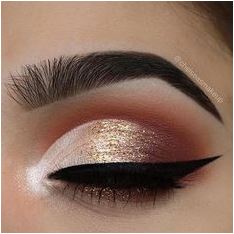 An enthusiasm, hopeful, and beginning-filled surge accompanies the countdown to the New Year. Many women find themselves pressed for time during the hectic pace of daily life, which makes it difficult to get ready for the joyous occasions. However, fear not! With some quick and easy New Year Party makeup ideas, you can effortlessly glam up for the New Year's Eve party and step into the new year with confidence and style.
Planning Ahead for Effortless Perfection
Before getting into the finer points of makeup application, it's important to make sure everything is ready for a hassle-free prep. Set aside some time to acquire all the beauty supplies you'll need, such as mascara, lipstick, eyeshadow, concealer, and foundation. Make sure your sponges and makeup brushes are clean and prepared for use. Having everything accessible and arranged will make the process go much more quickly.
Flawless Base with Minimal Effort
Getting a perfect base sets the stage for the rest of your makeup application. Start by using a foundation that complements your skin tone and is lightweight and long-lasting. Choose a formula that provides buildable coverage so you can cover up flaws without using a lot of product. For an airbrushed, natural look, blend the foundation evenly with a damp makeup sponge or brush.
Conceal to Reveal Radiance
Concealers are incredibly effective in covering up imperfections and discolorations while also brightening the under-eye area. Apply a tiny bit of concealer beneath your eyes and use your ring finger to mix it in softly. Even after a hard day, taking this small action can quickly make you appear more awake and rejuvenated.
Time-Saving Eye Makeup Hacks
When time is of the essence, concentrate on applying eye makeup in an easy yet powerful way. For a chic and fast eye look, a sparkly eyeshadow palette might be your best friend. To enhance dimension, apply a neutral tone all over your lid and then a slightly darker shade in the crease. To add a festive touch, highlight your eyes by applying a small amount of sparkly shadow to the centre of the lid. Apply a couple coats of volumizing mascara to your lashes to give them a more defined and fuller appearance.
Effortless Glamour with Luscious Lips
Apply a striking lip colour that goes well with your attire to elevate your appearance. To save time touching up your lips during the evening, go for a liquid lip stain or lipstick that lasts a long time. A rich berry or classic red will quickly improve your whole look and set you up to steal the show as you ring in the New Year.
Radiant Glow with a Touch of Highlighter
To create a radiant glow and draw attention to your face features, a light application of highlighter can do wonders. A tiny bit of highlighter should be applied on your face's high points, such as your cheekbones, nose bridge, and cupid's bow. This procedure gives your skin a bright shine that makes you look younger and healthier.
Setting the Look for Long-Lasting Perfection
Think about applying a translucent setting powder or setting spray to make sure your makeup lasts the entire night. Setting powder may minimise any excess shine and keep your foundation in place, while setting spray helps seal in your makeup to protect it from smearing or fading. With the help of these easy-to-use items, you can prolong the use of your makeup considerably and worry-free during the celebrations.
Quick Touch-Ups for Lasting Freshness
Despite your best efforts, as the evening progresses, some touch-ups could be required. Keep a tiny makeup bag with basic necessities like blotting papers, a lip colour, and a compact powder. If you want to keep your pout looking vivid, reapply your lip colour. A little dab of powder can brighten your complexion. Blotting sheets are perfect for taking off extra oil without affecting your makeup, giving you a put together, fresh appearance.
Confidence and Comfort in Minimalism
Remember, the key to quick and easy New Year party makeup lies in simplicity and confidence. Accept your inherent beauty and concentrate on drawing attention to your best traits rather than drastically altering your appearance. You can easily obtain a beautiful makeup look that fits your style and personality with the correct tools and a well-planned strategy.
Let your carefree makeup convey your lively personality and excitement for the adventures ahead as the clock strikes midnight and you welcome the New Year with wide arms. Busy women can welcome the new year with style and grace this year by using these simple and quick makeup ideas.
There is a New Year's Eve makeup look that is ideal for you, no matter what your style is. All you need is a few items and a short amount of time to create a dazzling and celebratory appearance that will last all evening.